Today's blog is looking at the different responses that mums and dads have been giving on Parent Ping this week… who's sweariest, whose favourite hymn is Autumn Days and who would like another child?!?
We've also got an Ofsted update for you and we reveal the most common parenting phrases (and when you are going to say them).
Here are the four questions where mums and dads show their true colours…
1. !~*#
Who is the sweariest? Mums or dads? It turns out… it's mums! Nearly two-thirds of dads say they 'rarely' or 'never' swear in front of their children, compared to half of mums. Or is it just that mums are more honest?!
2. If you could have anything…
The Parent Ping Genie also revealed a big difference between mums and dads after offering a range of exciting options this week.
Larger houses were more frequently mentioned by dads – although mums were quite into the idea. However, mums were much more into the idea of a guaranteed holiday abroad… and the idea of another child. We hope the Genie didn't cause any rows!
3. Telling you off…
Mums get approached by random people about their child's behaviour in public a lot more than dads do. 21% of mums say they have experienced this, compared to just 13% of dads.
Few parents say they would challenge a child (either teen or toddler) for dropping litter in the street, with little difference between mums and dads. We did think this might be one that was influenced by being a teacher, but actually there was little difference between parents who are teachers and those who work in other professions. Older parents are more likely to challenge a teenager, but just about no one wants to take on the minefield that is telling someone else's toddler off in front of their parent. 
4. Sing, sing out loud, sing out strong…
Our hymns question on Wednesday caused quite a lot of controversy, with parents taking to twitter to lobby for their favourites, and a number of earworms being planted!
The overall winner was Lord of the Dance 🏆 We thought that there might differences by parent age, but actually the biggest difference is between mums and dads! Mums were BIG fans of Autumn Days and Give Me Oil in My Lamp, but more dads than mums liked Shine Jesus Shine.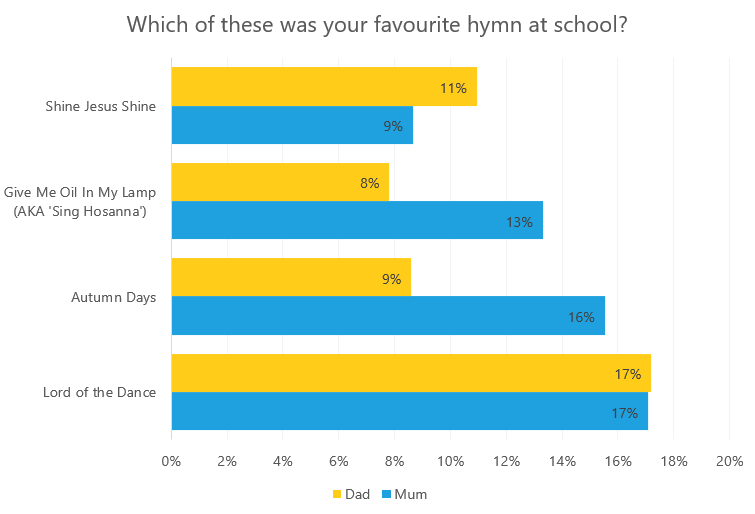 (BTW, a shocking 19% said 'none of these' so if your fav was left out, let us know and we'll re-run the poll!)
On Wednesday we asked when you think Ofsted inspections should restart. To be honest, we were only really interested in the responses from the non-teachers (as we had previously asked this on Teacher Tapp and the results are very similar to the parent-teachers on Parent Ping). 
Mostly, the parents agreed with the teachers (both on Teacher Tapp and the parent-teacher on Parent Ping), with the biggest group suggesting inspections should restart next academic year. 
However, nearly a third of parent-teachers said they should never resume – more than twice than the number of regular parents that said this (and a little more than the Teacher Tapp teachers too).
How many times do I have to say…
What's the most common parenting phrase echoing around Britain's houses?
It's the classic: 'How many times do I have to say…'!
But the phrase de jour depends on the age of your children. Whilst 'I've only got one pair of hands' rings out in the homes of pre-schoolers and primary-aged kids, it becomes less common once they reach secondary age (phew!) and is increasingly replaced by 'I'm not made of money!' (eek!)
Next week we have questions including your favourite teacher, and if you've ever cried at work. Don't miss a question! Download the app and setting your notifications to PING every day!