1. The great uniform monopoly
Buying uniform is a pain at the best of times, but over half of you (54%) can only buy school-logoed items from a single shop, and a further 14% can only get it from the school. (This is the same for both primary and secondary schools).
Is this more convenient? Or a nightmare? A new law is currently going through Parliament in that would ban the use of single-supplier contract for uniform unless the school runs a full competitive tender and can show it has achieved value for money. The new law will have its third reading on the 27 November, but might yet fail to pass – we'll keep you updated!
Meanwhile, how much does a school uniform cost these days? At the start of term, you told us that you spent less than £100 to get your kids kitted out for the new school year, but we weren't sure if this was skewed by parents just 'topping up' existing supplies, rather than buying the whole caboodle.
So, this time we asked: 'Thinking of the uniform your child wore yesterday, how much would it cost to replace the entire outfit?' Again, we found the overall cost of uniform remains below £100 for 85% of primary-aged children and below £150 for 78% of secondary. As an interesting aside, 10% of secondary students didn't wear a uniform on the day we asked (we removed them from the analysis), is this due to new pandemic rules? (Or sixth formers?) 🤔
2. Screen time & social media
Currently each media platform sets their own age restrictions. Would it be easier if kids simply had to wait until they are 16 for all of them? Broadly, you are in favour of this, however those of you with younger children are in stronger agreement with the idea.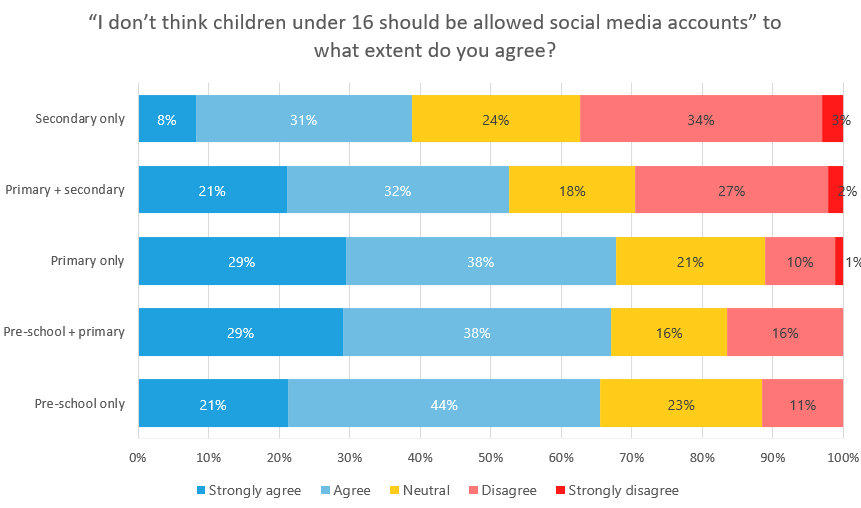 Parents with younger children were also more in favour of screen-time limits. Nearly half of secondary aged kids have no limit on their amount of screen time, although 1 in 5 of both primary and secondary kids have a physical limit set on their device – that is, their devices literally just turn off when the limit is hit!
Dark nights are coming and energy is depleting. When it comes to a secret place for your own foodie treats, mums were far more likely to have a hidey-hole than dads. And perhaps less surprisingly, parents with bigger families were more likely to have a secret stash than parents with fewer children.
It also appears that parents who are also teachers have a slightly different pattern on this one. Nearly twice as many parent-teachers refuse to let kids help themselves to treats or to food already in the fridge compared to other parents… do you use the 'teacher stare' we wonder!? (And can you teach us?!)
The invention of lying: 54% of you admit that you have lied to work/friends using your children as an excuse for not doing something. Seeing the daily results, one parent asked on twitter… "what do the other 43% do?" Another answered "43% lied on the survey, probably using their children as an excuse!"
Cloudy with a chance of meatballs: As we go into winter, it seems the kids may be lacking a hot lunch! 17% of secondary parents report that their kid's school is not currently offering hot lunches due to Covid, a further 49% say schools are offering a restricted menu. This is also affecting primaries, with 21% not offering a hot lunch and 33% having restrictions.
Run forest, run: Forest schools are surprisingly popular, with over half of primary-aged kids and a third of secondary having attended one at least occasionally. Of those that haven't been, most of you say that your kids would enjoy the opportunity were it available.
Halloween I: When it comes to trick or treaters, it seems that you rarely opt for a trick! But with Covid restrictions it also seems that far fewer of you will be opening the door at all this year compared to last year.
Last Christmas: So far just 1% of you have bought all your Christmas presents already, and this is mostly the dads. Since we last asked in September there has been a predictable increase in the number of you who have bought some presents, but how much will it rise next month and who will leave it all until Christmas eve? Watch this space!
Next week we have questions on photos, parents evening and parenting blogs. Don't miss a question! Download the app and setting your notifications to PING every day!