Let's start by saying you like uniforms! Given the choice between two schools identical in every way, except one has a school uniform and the other doesn't, three quarters of you would choose the one with the uniform. It didn't make any difference if your kids are in primary school or secondary, if you are a mum or a dad… consistently most parents like uniform!
What type of uniform do you like? Well, this seems to depend on the age of your child. Those of you with younger children would prefer something a bit more practical, e.g. jogging bottoms and polo shirt. The jury is split amongst parents of older kids with roughly half preferring practical attire and half preferring a smart uniform (shirt and tie style). In the end, the latter group nudge smart uniform into the top spot for secondary schools.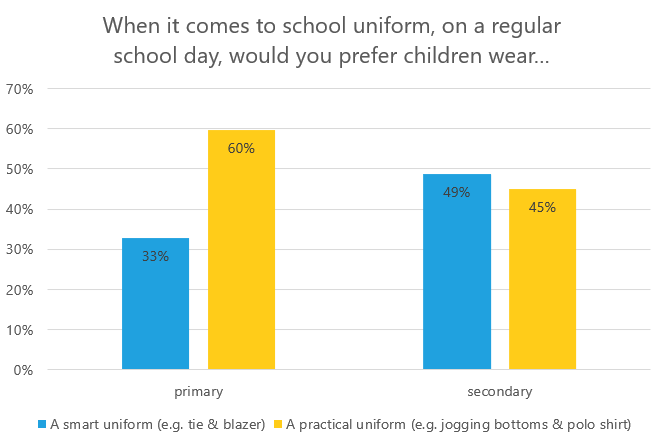 BUT it's not that straight forward… If you have a daughter, half of you told us that you have different summer and winter uniforms (this only applies to a third of you with sons). This does seem to be mainly a primary school issue – 67% of you with primary-aged kids said you have the option of two uniforms – but it applies in 13% of secondary schools too.
And what happens to the uniform after it's been worn? 4 in 10 of you say you donate items in good condition to your school. A quarter of you with children in primary school say you might save it for a younger sibling, but only around 1 in 10 of you with kids in secondary school say you do this.
Finally, while we are thinking about school clothes, what do you think the teachers should be wearing?! Well, you don't think they should be suited and booted! You also don't think teachers should be too informal, most of you selected the middle ground of semi-formal / formal (think shirt but no tie, or polo shirt). However, you did think the level of formality should be a bit higher if your child is secondary school-age, and dads were bigger fans of formality than mum
Since last July, we've been checking on where you'd be happy to take the family, and we checked again last week as lockdown continued to ease. Whilst outdoor pursuits are still the clear favourite, there's also a noticeable shift in willingness to do more indoor activities and to go to busier venues such as theme parks. We'll continue to keep an eye on this over the summer.
3. Would you send your child to a single sex school?
Single sex schools do not, on the whole, seem popular with Pingers. Whilst a quarter of you don't mind, and a quarter of you would accept it if you needed to, most of the rest would actively avoid a single sex school, particularly parents of boys. Only 2% of you would actively seek out a boys' school, and only 7% would seek out a girls' school.
Pity the poor brussel sprout! it was bottom of our list of foods that your kids will willingly eat and bottom of the list of food you will willingly eat!
11! This was the most popular answer to three questions this week… what age would you let your child walk to school on their own, what age would you let your child have their own front door key, and what age you got your own front door key.
Next week we're trying to get to the bottom of home school relations. We've also got a lovely set of questions suggested by Pingers. If you've got questions you'd like to see us asking why not get in touch with your suggestions: hello@parentping.co.uk
And don't forget… on Tuesday we have our first ever free webinar. There are still a few places left, so grab them before they go!